Be the Change You Want to See



Shri Swatantra Dev Singh - An Indian politician and currently the President of Bhartiya Janta Party, Uttar Pradesh. In past he worked with RSS as a Pracharak and became part of Akhil Bhartiya Vidharthi Parishad (ABVP).
Shri Swatantra Dev Singh
Smt Pushplata Agarwal – Founder Chairperson of an Educational Institution, an iron lady who achieved everything in unfavorable situations with no resources and but certainly with her untiring spirit, dedication and strong will power.
Smt Pushplata Agarwal
Recipient of India's highly prestigious award Padma Shri 2020 for his work in the field of literature and education Dr. Yogesh Praveen is an Indian author and expert on the history and culture of Avadh, specifically Lucknow. He has a Masters in Hindi and Sanskrit in addition to a doctorate in Literature from Meerut University. .
Dr. Yogesh Praveen

Lt Gen Dushyant Singh was commissioned into the 'NINTH BN OF THE MARATHA LIGHT INFANTRY REGIMENT' in Dec 81. He is an alumni of NDC, DSSC, CDM and Naval Post Graduate School California, USA. He is a prolific reader, writer and a keen sportsman with a great desire to serve the nation always.
Lt Gen Dushyant Singh, PVSM, AVSM (Retd)

Maharaj Ajay Yagnik Ji is well known for SunderKaand Path, Spiritual Teachings and Soulful Bhajans all over the world. The Aura and positive energy around him inspires millions. Not only in India but Shri Ajay Yagnik Ji has traveled far across the world where many of his admirers, devotees have come to attend his programs and hear to his Sankirtans and Sunderkaand Paath.
Maharaj Ajay Yagnik Ji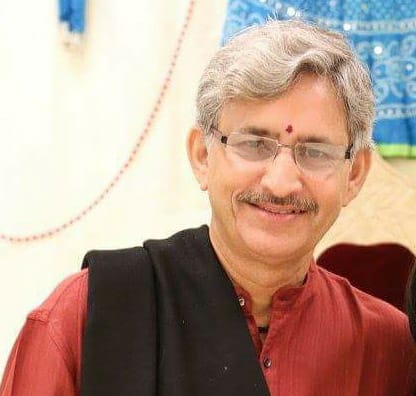 Prof Kamla Srivastava . An artiste much in demand and invited to sing at programs throughout the month, she comes from the family of artists and poets. She sings folk, light and classical music at All India Radio, Doordarshan and Sri Lanka Radio. She is also a poetess and writes lyrics in Awadhi, Bhojpuri and Hindi. She has recently published her book Geet Vatika and has received awards and citations from Sangeet Natak Acadmy, UP, Uttar Pradesh Sangthan , Yash Bharti Samman and more.
Prof Kamla Srivastava

Shaan - e - Awadh with almost 4 decades of Experience in Acting in TV & Film Industry. He is Top Grade TV & AIR Artist along with being a voice over artist because of his amazing voice.
Shri Vinay Srivastava

Group Captain P Aanand Naidu a veteran presently is the Director Clean Exit, ISAC Adjunct Professor CADL, NALSAR University of LAW, Hyderabad. He is a person deeply connected to his roots and always there to guide young generations.
Group Captain P Aanand Naidu (Retd)
An Engineer by Profession and Theatre Artist by Passion. Recepient of "Academy Award-2006" of UP Sangeet Natak Academy.
Working on History of organised and modern form of Lucknow Theatre.
Shri Gopal Sinha
SNA Award 2020 winner the renowned singer well known for his Devotional Singing and Pravachan. Shri Kishore Chaturvedi Ji sings Bhajans with his heart and soul, that's why he brings the divinity, peace, and joy to listeners.
Shri Kishore Chaturvedi

Shri Girish Chandra Mishra has devoted himself for Sangh with an aim to serve humanity & promoting Indian culture art & heritage.
Shri Girish Chandra Mishra

Shri Lalit Pokharia - Free lance Writer, Director, Teacher, Actor, Researcher and Personality development oriented teacher in Theatre for last 35 years. Also empanelled with radio, television & films. Having a motive to preserve human values.
Shri Lalit Pokharia

Dr Anil Mishra – Chief Medical Officer of Kanpur and Ex-Joint Directorate of Director General of Medicine Dr Mishra is a spiritual speaker, a true nationalist a great writer and a poet.
Dr Anil Mishra

Wing Commander Satyendra Chauhan AKA Winco Chau, an Air Veteran, and an International Coach Federation Certified Resilience Coach, Executive Coach and OD Coach. For the last 15 years have been helping executives and youth confronting challenges of adapting to change, cope with stress and are looking to improve their performance.
Wing Commander Satyendra Chauhan

Dr Srishti Shrivastava comes along with tremendous knowledge and huge experience in Education Field. Her Domain has been Psychology and she has been a regular speaker on various big platforms and interacting with youth has been her passion all throughout.
Dr Srishti Shrivastava
Media Analyst and an Enlightened Speaker. A prolific reader writer & Speaker. A SNA Awardee and National Commentator with plethora of experience with him.
Shri Atma Prakash Misra

Prof Sheela Misra is an Educationist and Social Worker committed to Bring lost glory of Bharat through Indic Wisdom , Spritual Orientation and Character Building .
Prof Sheela Mishra

Shri Rajesh Jha ia an active leader & socialist with a great desire to work for upliftment of society.
Shri Rajesh Jha

Shatrudra Pratap Singh is a Visionary, challenge-driven, successful leader in both academic and community arenas. Natural and persuasive communicator recognized among colleges and other youth driven groups for keen ability to energize and inspire individuals to work towards nation building.
Shri Shatrudra Pratap Singh

Capt Vikas Gupta, Veteran from indian Army is presently Chairman, U.P. Council of Agricultural Research
Capt Vikas Gupta

Smt Amita Singh is an Educationist with 22 years of rich experience. A Masters in English and a dynamic speaker she has an affinity and passion to train and motivate young people in public speaking and confidence building life skills.
Smt Amita Singh

Mayank Ranjan ji a well known name in Lucknow. He is providing teens & youth State and National level platforms for various art forms of Indian Culture like Classical and Folk music ,drama genres and literature etc refining their talent and establishing them in the respective fields.
Shri Mayank Ranjan

A PPS Officer who is not only a true professional but also having a strong bonding with Indian culture & traditions. He has a strong desire to serve humanity & bring some positive changes in society and over and above very much concerned about young generation.
Shri Rajesh Kumar Shrivastava

Flt Lt Samarveer Singh an ex- Air Force officer with over 16 years of experience in corporate world. Avid reader and poet with interest in history, philosophy and culture and to guide young minds.
Flt Lt Samarveer Singh

At present Dr Bhupendra Singh is Clinical Hematologist at King George's medical University Lucknow and also Secretary, Awadh & Kanpur Unit National medicos Organisation & National General Secretary Youth in Action India. Beside this he is also a Folklorist.
Dr Bhupendra Singh
Roshan Premyogi ji is a prolific reader writer and author of many books. A person with pious thoughts and plethora of knowledge
Shri Roshan Premyogi

A passionate reader, writer & a social Activist associated with Rashrtya Sewa Yojana, Sewa Bharti (New Delhi) , Rashtriya Sevika Samiti , Hindu Bodh Samanvai Samiti (Himalaya Parivar) Delhi Pradesh President Salute Tiranga, Delhi Pradesh.
Smt Sanyukta Kumari Kesari

Shri Vimal Kishore Shrivastav ji inspite of being from Police fraternity is a soft and very humble person with a great inclination for Indian rich cultural heritage and its practices along with being a writer.
Shri Vimal Kishore Shrivastav
A Popular Haasya Kavi with a great concern of having happiness all around as Happiness is State of Mind.
Dr Sarvesh Asthana

Shri Shobhit Narain Agarwal - A Management professional, Corporate trainer and a Spiritualist, passion for people, training and mental care. His other interests lie in ayurveda, mindful meditation practise, gardening, cooking, music, yoga and travelling.
Shri Shobhit Narain Agarwal
Ajay Agarwal Ji worked with top MNCs and have priviledge to Work for IPL, IIfA, World Cup, and several luminaries. His Spiritual Thoughts combined with practical world practices are need of the hour.
Shri Ajay Agarwal

An extremely motivated , hardworking, committed and competent techie gig and educationist from the streets of Lucknow, been working towards improving the technological schema around the world and giving helping hands in evolution of mankind by contributing towards the technology innovations. She has been working with leading software giants for years and currently with Nokia as 'Chief Software Architect'
Mrs Neetu Singhal

Anil Sir is a name known and loved by many for his unique nature & helping attitude going beyond expectations leaving people amazed.
Shri Anil Agarwal
यह सच है कि आधुनिक समय में जहाँ बहुत सारे देश जाने अनजाने भारत की पुरानी परंपराओं का न केवल अनुसरण कर रहे हैं बल्कि इसे उसे अपने जीवन का एक विशिष्ट आधार मानकर जी भी रहे हैं परंतु एक ओर हम भारतवासी हैं जो अपने ही देश मे विकसित जीवन दायिनी और पथ प्रदर्शक …
श्री कृष्णा के अनेकों अनेक रुप है"हर रूप में अद्भुत विस्मय में डालतेहर रूप में मनमोहन अपना बनाते" कृष्णचरित्र जितना मोहक है उतना ही रहस्यमय है, जितना चंचल है उतना ही गंभीर, जितना सरल है उतना ही जटिल है, मानो प्रकृति का हर रूप अपने व्यतीक्रम के साथ उनके व्यक्तित्व में समाहित है। इतने आयामों …
देश की स्वतंत्रता की 75वीं वर्षगांठ पर 75 सप्ताह पूर्व आजादी का अमृत महोत्सव प्रारंभ हो चुका है। पूरे देश भर में यह महोत्सव हर्षोल्लास के साथ उत्सव के रूप में मनाया जाएगा और हमारे संस्कार यज्ञ के लिए गर्व की बात है कि आजादी के अमृत महोत्सव में जिस प्रकार के क्रियाकलापों को आगे …